Electric Conversions:
We offer electric conversions for Aga cookers using the 'Electrikit' conversion kit with independently controlled ovens and hot plates.
We can convert your 2 or 4 oven Aga cooker from oil or gas to Electric.
Now is the perfect time to convert your Aga to Electricity. In 2018 a record 33.3% of the UK's electricity supply was generated from renewable sources, primarily onshore and offshore wind generation ( UK Government Statistics: ).
Reasons to convert: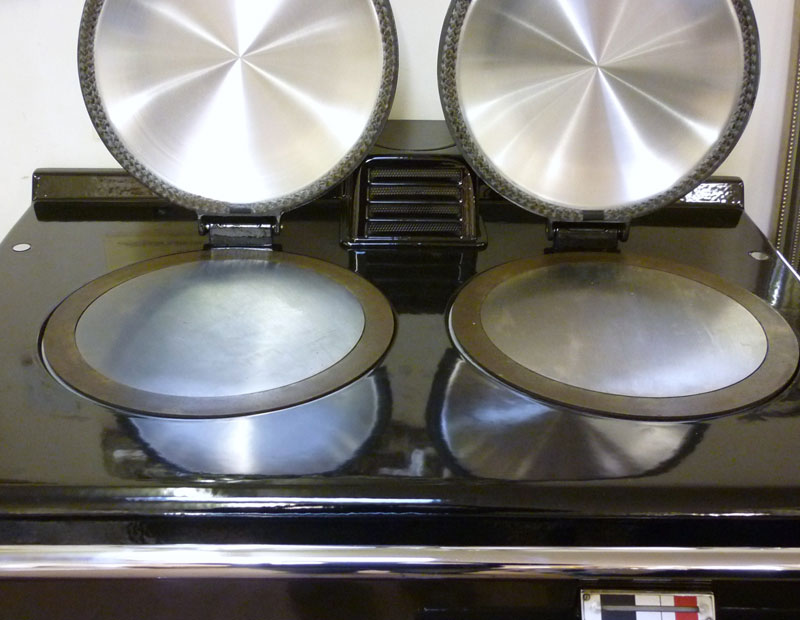 Improved heat up times: Top oven from cold to 200°C takes 1 hour 45 mins (approx times), Hot plates cold to frying 10 minutes (approx times)
More precise oven Temperature with digitally controlled thermostat
No servicing required
No flammable fuels needed, no Carbon Monoxide risk
No flue system
Flexible controls meaning the Aga can be cool in the summer and warm in the winter
Simple to use control panel
Timers can be used for oven and hot plates
Reduced running costs
Technical information
2 Oven Aga cooker:
One element sits between the 2 ovens that controls the oven temperatures. The temperature is controlled by a simple easy to use digital control. Simply set the desired temperature on the digital control and the top oven will heat up to desired setting. From cold to 200°C this takes approx 1 hour 45 minutes. The hot plates are independently controlled using their own thermostats and elements. Frying from cold takes approx 15 minutes.
4 Oven Aga cooker:
An extra element with its own control is added to heat up the left hand ovens.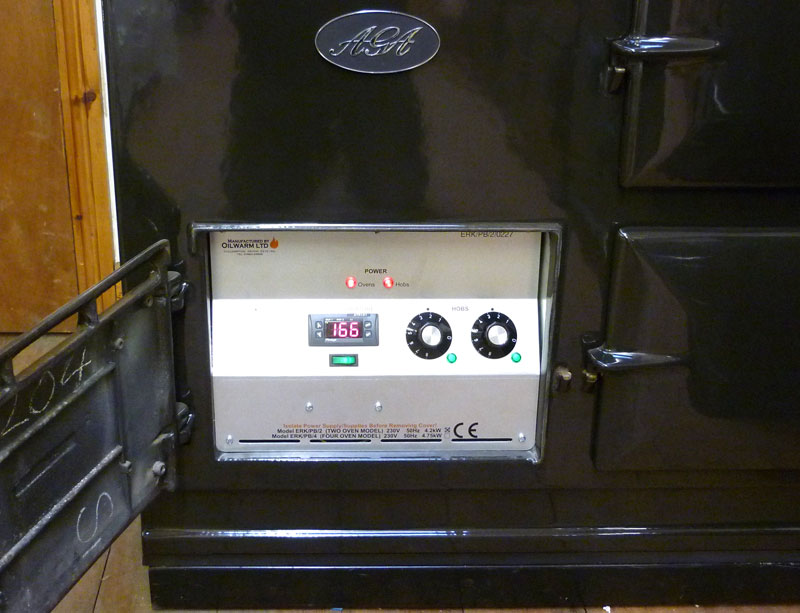 Electric supply:
2 x 13 amp fused switched spurs are required. Alternatively a split 30 amp supply can be used. We require this supply to be fitted by your electrician, then we can connect your converted Aga to this supply.
Oven temperatures:
These are approx temperatures after the top oven as heated up and been allowed to settle for around 30 minutes.
Top 160°C, Bottom 100°C
Top 200°C, Bottom 135°C
Top 230°C, Bottom 160°C
Running costs:
Every household will use the Aga cooker differently so it is difficult to have an exact idea of running costs. Here is an example of usage:
Autumn 3 months, timed operation, 454 kW used
Winter 3 months, 24 hour operation, 708 kW used
Spring 3 months, timed operation, 615 kW used
Summer 3 months, manually operated, 287 kW used
The hobs were used only when required, this gave a total annual usage of 2064 kW used.
Heating from cold:
Hobs: from cold to 365°C, 30 minutes, 0.7 kW used
Oven: from cold to 200°C, 1hr 35 minutes, 2.7 kW used
Oven: from cold to 235°C, 2hr 2 minutes, 3.6 kW used