Electric Conversions:
The ElectricKit Classic can be installed into one of our fully refurbished aga cookers, or as a conversion for your existing oil or gas Aga Cooker.
The ElectricKit Classic turns your Aga Cooker into an efficient, controllable electric model.
It has electric elements under each of the hotplates which can be turned up and down depending on the temperature needed. Each one can be either boiling, or simmering etc. This is controlled via a numbered dial 1-8. As an optional extra you can upgrade your left-hand hotplate to a 1.6kW induction hob for instant heat and even cheaper running costs.
The right-hand ovens can be adjusted to a temperature using the digital display on the control panel. This shows the target and current temperatures of your top right-hand oven. The bottom right-hand oven will automatically be around 60°C cooler than the top oven. There is an extra element underneath the bottom oven allowing you to manually increase this oven temperature as and when you need to for even more flexibility.
Advantages of converting from a Traditional Aga Cooker: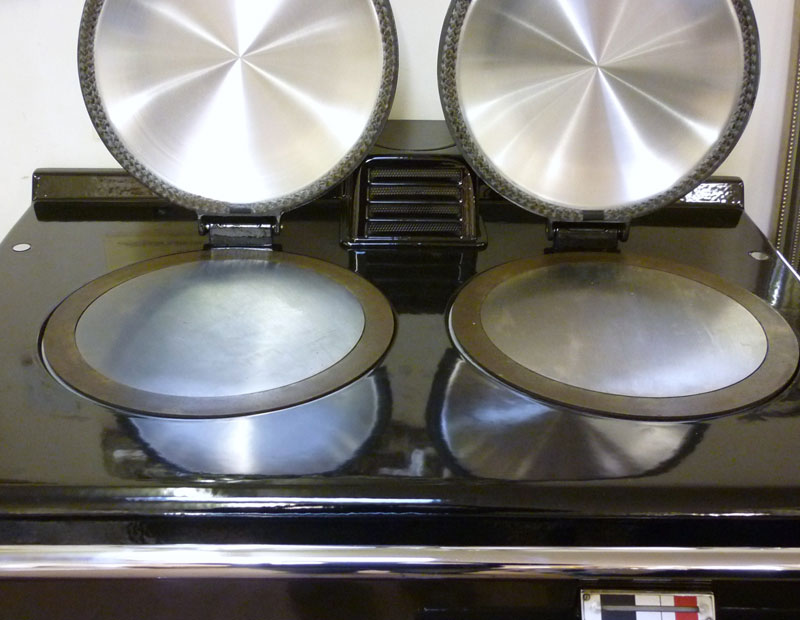 Reduced running costs.
Flexible ON/OFF control over ovens and hotplates.
Quicker heat up times.
Reduce your carbon footprint and usage of fossil fuels.
Ability to reduce ambient heat into the room during the warmer months.
Ability to keep on 24/7 in the cooler months.
No frequent servicing costs.
No flue requirements.
Oven temperature unaffected by hotplate usage.
British-made.
Warranty included.
Now is the perfect time to convert your Aga to Electricity. In Q1 of 2023 a record 47.8% of the UK's electricity supply was generated from renewable sources, primarily onshore and offshore wind generation ( UK Government Statistics: ).
How it works:
The ElectricKit Classic conversion will utilize elements placed directly above, between and below your cast iron ovens. Most of the elements inside work individually. The top oven element and the middle element will fire at the same time. The bottom oven element is controlled via its own dial inside the control panel, and the two hotplate elements are completely controllable.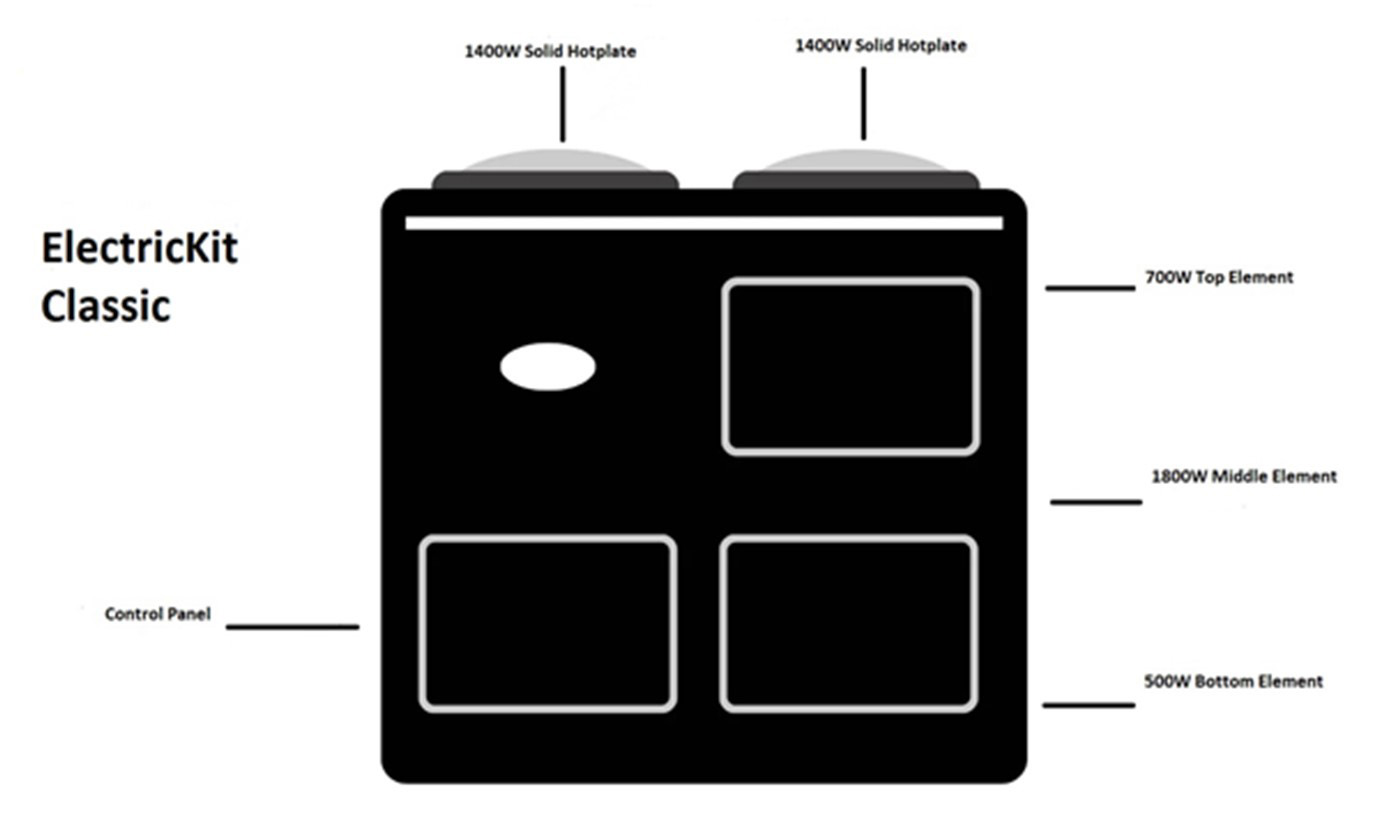 Technical information:
LH Hotplate Element: 1400W
RH Hotplate Element: 1400W
Top Oven Element: 700W
Middle Oven Element: 1800W
Bottom Oven Element: 500W
(Optional) LH Induction Hob: 1600W
Heat up times:
(The below are approximations)
Top Right Hand Oven from cold – baking (180°C) in 48 mins, roasting (220°C) in 60 mins.
The Bottom Right Hand Oven will sit around 60-70°C cooler than the temperature in the top oven.
Hobs from cold – simmering in 13 mins, boiling in 19 mins.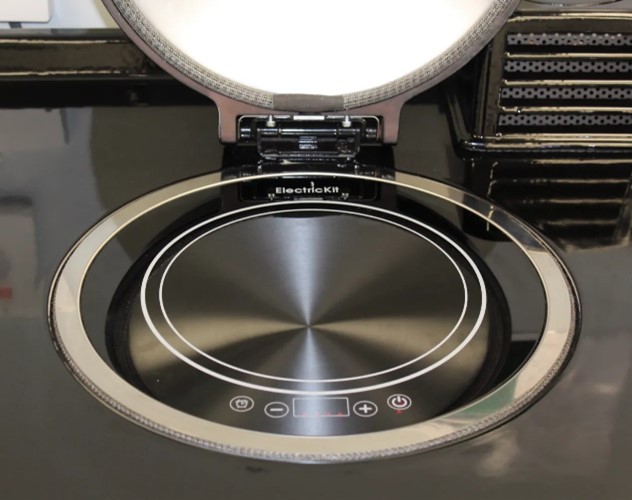 Optional 1.6kW Induction Hob to replace LH Hotplate
Running costs:
Top Oven on for 12hrs a day at 220°C: approx 53.83 kWh per week.
Standard Hotplate: approx 0.58 kWh.
For a happy medium and quicker heat up times, we recommend putting your Top Oven into a slumber/simmer temperature (120°C-140°C) and bringing the oven up to temperature when required.
Switch the Hobs on as and when required. We recommend using your right Hob as your preferred hotplate, since it may already be warm due to the ambient heat if the ovens below are already on.
For lower running costs run your Top Oven as and when required - even timing the oven to come on automatically via an external timer on the power supply.
You can upgrade to an induction hob for efficient, instant heat.
Electric supply:
2 x 13 amp fused switched spurs are required. Alternatively a split 30 amp supply can be used. We require this supply to be fitted by your electrician, then we can connect your converted Aga to this supply.